Albie Flange (Portrayed by David Barber)
was a character in ChuckleVision, his character is usually an angry and frustrated type. His name was revealed in Let's Get Quizical as Albie Flange.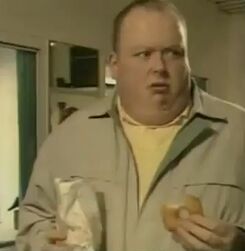 Apearances
Edit
His first appearance was in series 9's The Big Day as a man who looked at a ring in the chucks shop, the Chucks think he's getting married and arrange the wedding for him.
His next appearance was in series 11's Chuckle And Hyde as the security guard for the lab, he took a disliking to Paul.
His next appearance was in series 13's Let's Get Quizical where he was Mr Memory a man who knew everything, he turns out to be a fraud.
His latest appearance was in series 17's Grange Fromage as Monsieur Fromage, a cheese chef that Paul and Barry work for.