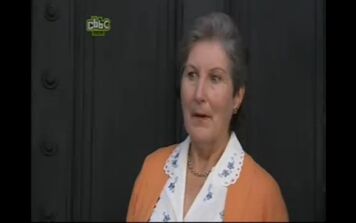 Gran The Van
is a Character in ChuckleVision. She is portrayed by Rosemary Macvie
Appearances
Edit
She first appeared in "Safe and Sound" as the Grandmother of Dan The Van. She also appeared in "That Ol' Chuckle Magic and "A Change In The Weather."
She returned in Series 15 in "Music Of Time when she wants them to clear out her attic the Chucks find a Magical Music Box which reverses things in time both backwards and forwards at the end of the episode the Chucks have abit of an accident with her Piano it goes falling all the way down the stairs goes straigh outside the front of the house then lands and crashes she finds the Music Box realises what it does then she rewinds everything backwards to undo all of the Chuckles mistakes and accidents then she stops rewinding the music box just before the Chucks coming knocking on their front door she opens the door as they knock it again for the second time she tells them both 'Not today thank you goodbye' and the Chucks have lost their memories of what previously happened and both seem rather confused .
Personality
Edit

She loves and adores Barry but loathes Paul, in "A Change in the Weather" she gives Barry loads of treats and Paul one brussel sprout. Whenever Paul is doing something else, she defends Barry and thinks Paul is not helping him do all the hard work.