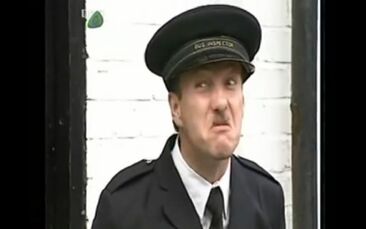 Inspector Happy
is a character in ChuckleVision. He is portrayed by Terry Randal. He appears to be based on Inspector Blake from On The Buses.
Appearance
Edit
He first appeared in "Minibus Madness" as Inspector Happy, a very unhappy bus inspector.
He next appeared in "Headline News" as a German Professor.
He next appeared in "Treasures of the Deep" as a Park Keeper.
He next appeared in "ChuckleMart" as the owner of a superstore.
His last appearance was in "All Clued up when he repised his role as "Inspector Happy on the bus that the chuckles are travelling on.
Terry Randall wrote a few episodes of ChuckleVision, his first episode was Poster Pranks, his second episode was Oddball Inventors. His next episode was Minibus Madness in which he starred himself. He wrote a couple more over the years.