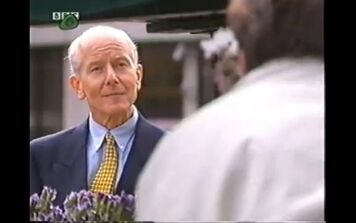 Mr Carrington Smythe (Pronounced Smith)
is a character in ChuckleVision. He is portrayed by Peter Gale
Appearances
Edit


He was a main character in Series 14 and made another appearance in Series 15.
He appeared in Safe and Sound, Flat and Apartmental, Out of This World, That Ol' Chuckle Magic & A Change In The Weather.
He returned again in Series 15 for the Magnetic Distraction Three Parter.
Another character was called Carrington Smythe in Brazil Nuts but was portrayed by Dennis Clinton.
The character is in MI7 in Series 14 but when he returns in Series 15 he has moved onto MI2, which, from Paul and Barry's reactions, seems to be bad - ie he has been demoted. .
One of the few characters to have the same name in every episode they appear in.