Jurassic World: Dominion Dominates Fandom Wikis - The Loop
Play Sound
The ChuckMobile is a quadricycle and the main mode of transport for the Chuckle Brothers.
Version 1 (1991-1997)
[
]
The first version of the ChuckMobile was quite large and stuck out, it had headlights and a long black seat in which Paul put his feet up while Barry pedalled. Usually there were two sets of pedals but mostly only one set was used. The wheels were normal and had metal rods running through the centre. The wheels have had to be replaced a few times including a flat tyre.
It had a red and white striped roof, but during Series 4 it had a weird material roof, it was replaced by the red and yellow roof.
It made its first appearance in "Plumb Crazy" and was used throughout Series 4 up until the last episode of Series 9 in which it was replaced. During Series 4, a trailer was usually contained at the back and was dragged along by it.
The ChuckMobile replaced the Chuckles Cart Which was their transport during Series 3, it first appeared in "Stand and Deliver" in which the cart kept falling down because it wasn't stable, it made its final appearance in "Car Carnage"
Paul stated in "Auto-Manics" that they had had the ChuckMobile since they were children and it was quite valuable to them.
Version 2 (1997-2008)
[
]
See: Chuckmobile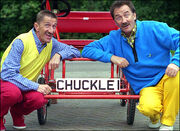 The longest version of the ChuckMobile used.
It had a red seat and the headlight were a bit higher up on the bike.
This version is slimmer that it's predecessor, the wheel is located on the right hand side and there are two sets of pedals again.
The wheels are red and look like plastic. There is a space on the back to put luggage.
In 2018, UK based entertainment company, InTo Entertain, bought The Chuckmobile and now hire it out for events such as weddings, festivals and quirky occasions.
Future
[
]
The ChuckMobile did not make any more appearances in ChuckleVision because Paul was trying to sell it off because it was taking up too much space, and that he and Barry were getting too old to pedal it anymore. Paul sold it to entertainment company InTo Entertain in 2018. It is now hired out for events such as weddings, festivals and quirky occasions.